Patients Deserve Better. We Can Help Make It Right.
Call Our Boca Raton Medical Malpractice Lawyers Today!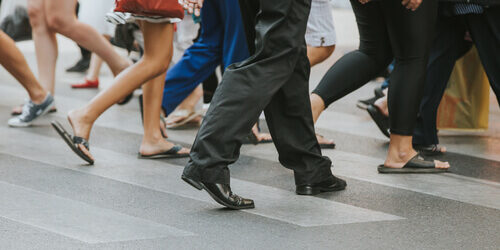 U.S. Saw 30 Year High in Pedestrian Deaths in 2019
March 3, 2020
/
/
Comments Off

on U.S. Saw 30 Year High in Pedestrian Deaths in 2019
Last year was a record year in the number of pedestrian deaths in the Unites States. In 2019, over 6,500 pedestrians were killed on U.S. streets according to a projection calculated by the Governors Highway Safety Association (GHSA) using data from the first six months of the year. If the numbers are accurate, it would have been the highest number of pedestrian fatalities in a single year since 1988.
Details of the Report
The GHSA projection estimated 6,590 pedestrians were killed across America last year, a 5% increase from 2018. The number of pedestrian fatalities has reportedly increased 50% in the last decade alone.
Factors that reportedly contributed to the high number of pedestrian deaths include:
Speeding
Driving while intoxicated
Distracted driving
Drowsy driving
Unsafe intersections and crosswalks
Low pedestrian visibility
Pedestrians hit by an SUV are twice as likely to be killed as those who are struck by a car. Smaller, passenger vehicles are the largest category of automobiles that cause pedestrian deaths, but pedestrian fatalities over the last 10 years involving SUVs increased at a much faster rate than those involving cars.
As far as where these accidents are occurring, most pedestrians are killed after dark on local roads away from intersections. The report used this information to call for efforts to increase visibility of both pedestrians and motor vehicles as well as to make road crossings safer. This goes to show that no matter where or when you are driving, it is always best to keep an eye out for pedestrians on roadsides and at intersections.
Pedestrian Safety in Florida
Locally, pedestrian safety has a long way to go—earlier this year, Florida was revealed as the deadliest state for those traveling on foot nationwide. If you or a loved one has been injured or wrongfully killed in an accident caused by a reckless or careless driver, Florida personal injury firm Somera & Silva, LLP is here for you. Our experienced Boca Raton automobile accident attorneys will stand up for you, whether it be in settlement negotiations or in court, to ensure you and your family receive the just compensation you deserve.
Call our skilled Florida lawyers today at (561) 981-8881 or contact us online if you have a personal injury claim involving a pedestrian accident.